…albeit being Virtual.
Lock-down is awful. Not just for me, but for virtually everyone right now. I'm fortunate in that I'm working from home. The wife with her job she started four weeks ago is also working from home for the bits she can do. But the cabin fever is starting to kick in. We're going for walks daily with the kids as we're currently allowed, but I am yet to venture out on the bike.
A few weeks ago I decided I wanted to complete the Tour of Watopia on Zwift. Zwift, if you don't know, is a virtual platform for cycling. You hook your bike onto a Turbo Trainer, pair it with a device to run Zwift and away you go. As you pedal, your avatar on screen pedals. You complete virtual miles in a virtual world. It's even got it's own eSport series running on the platform and professional cyclists also use it to train.
There are 5 stages to the Tour of Watopia. All cover different areas of the virtual world of Watopia. There are other works in Zwift that mimic real places like London, Innsbruck and New York (albeit with a twist), but i like Watopia as it takes me to somewhere that doesn't actually exist. At the end of the day, Zwift is a game, a game designed to help some of us get fit and help some other train.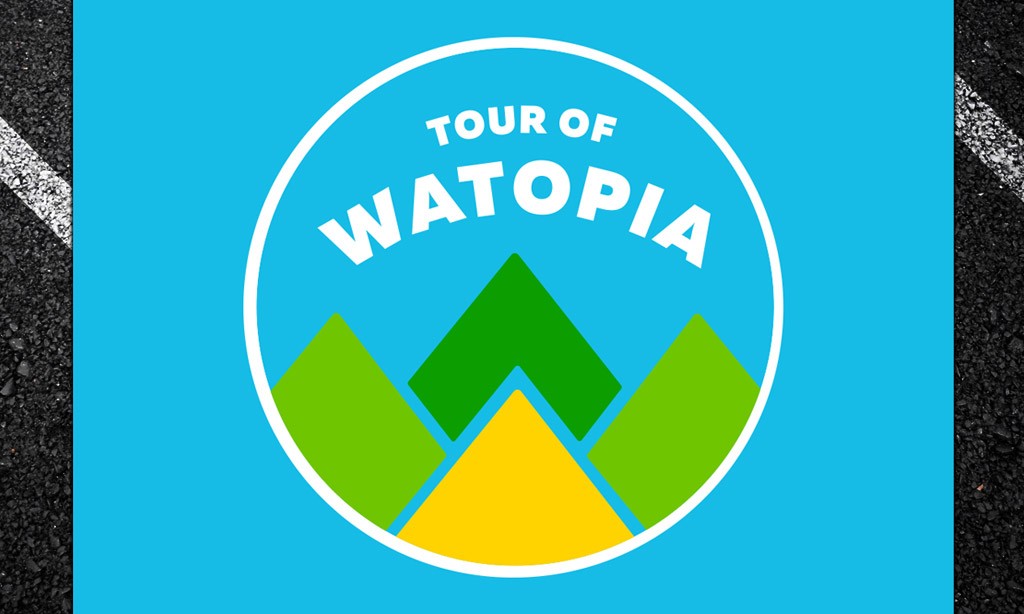 I planned to complete these stages over the weeks of the tour;
Stage 1 – March 10th
Stage 2 – March 13th
Stage 3 – March 18th
Stage 4 – March 22nd
Stage 5 – March 27th
I then had to adjust as I forgot about a planned operation on March 13th which would mean I couldn't rider the bike for more than a week, but I'd take that on the fly.
I tried to go for Stage 1 on March 10th, I got a couple of miles in then stopped. The gear indexing on my rear AND front derailleur were both well out. I started to inspect the front derailleur first as is never out then notice it wasn't moving with the adjustment front near the handle bars. I contacted my friend who owns a local cycle shop and he said the cable is either stuck in the housing, or it broken. He said to try and loosen the screw holding the cable to the derailleur and then pull it through tight. I loosened said screw and found the cable snap right where the screw was. Not great, but this then meant a trip to my friends shop for a new cable. Once back I got the bike back on the trainer and got it indexed.
This then delayed the Tour of Watopia until after my op. I figured I'd be back riding after a week, so back for March 21st. I could ride Stages 4 & 5 and then do 1, 2 & 3 in the makeup days the week later. Only I couldn't ride the bike by then. I was warned after my op it would be at least 2 weeks before I could ride the bike again and it was 2 weeks to day I felt comfortable doing so.
So this again changed things for the tour. Eventually I completed Stage 5 first on March 27th. I then completed stages 1, 2, 3 & 4 in the makeup days.
Stage 5 – Short Group Ride (Mar 27)
Who said you have to ride the stages in order? Not me and as long as I complete the tour I'd be happy. I chose the shorter group ride for this stage (as I will with most). This group meant I would be riding the "Volcano Flat" route in Watopia, of which I'd have to complete 2 laps of. This is a route I've completed a few times before, so I'm fairly familiar with what to expect.
At the start of group rides, if you want to be in the main group you have to go like mad to follow them out. Me, I'm not too bothered where I finish, it's about riding for me. Not too long after the start I was riding with a couple of others who were going at the same effort as me. About half way through out three became four as another rider we eventually caught stuck with us (this rider won't be the the lat time riding with me). It's nice to ride in a group, even if we're in different parts of the world (UK, USA and Germany in this group of four). Riding in a group in Zwift means you can "draft" when you're behind others, which means you go the same speed as those in front without having the quite match the effort.
Eventually we finished the ride after 52 minutes and 25 seconds. I averaged 148 watts to get there.
Stage 1 – Short Group Ride (Mar 29)
Back to the first stage and this route was one I've never completed before. I'm a big guy so I don't really like hills and climbs. Well this route includes the Watopia KOM climb, but in reverse. In reverse it is a steady climb rather than a steep one so it's a bit longer. Going the forward way would mean a shorter climb, but steeper. So I was relieved going into this ride that I wouldn't be going to forward direction.
Unlike in Stage 5, I didn't get with any other riders going to same sort of pace as me, so it was a solo ride (no drafting). This was a hard effort, but I kept going. I had the chance to finally complete something I started on Zwift and I wasn't quitting.
I crossed the finish after 62 minutes and 34 seconds. A good effort i though averaging 157w through the ride (higher than Stage 5)
Stage 2 – Short Group Ride (Mar 30)
I wasn't looking forward to this stage after learning the route. The "Figure 8" route covers both the Flat and the Hilly routes in both directions. That mean facing the Watopia KOM forward as well as reverse again. I figured I could just give it a go and see.
A couple of minutes into the ride I paired up with another cyclist matching my effort. I then noticed the name and realised I had recently completed a ride with this guy, back in Stage 5. During this ride I noticed he massively dropped back on the climbs, his power output dropping massively. We started chatting via the in-game messaging system and found he had an issue with his trainer not increasing resistance on the climbs, which is why he was dropping back. We started talking about his trainer and what the problem could be. This chatting along with riding with someone made the ride go by so quick, I even got up the KOM in forward direction to my surprise.
We completed the stage in 70 minutes and 29 seconds. Pretty good considering we had to climb 770 feet. I averaged 139w, down on the last couple of rides.
Stage 3 – Short Group Ride (Mar 31)
I really didn't look forward to Stage 2 because of the climbing, well Stage 3 was a whole lot worse when you take the name of the route "Volcano Climb". I had only previously been up the Volcano three times, of which I only actually made it up there two of the three. After completing Stages 1 & 2 the previous two nights, I was planning on this being a 90+ minute ride.
Just like with Stage 1 I never really settled into a little group with anyone. I got through the first 6 miles or so with a couple of other cyclists, but as soon as we hit the climb of the Volcano they disappeared into the distance.
About 2/3 of the way up I nearly gave up. I had to get off the bike and move around. Climbing this was hurting my leg muscles. I refilled my water bottle and thought to myself "just pedal". I dropped another gear and just pedalled. No real effort, just spinning the legs. Before I knew it I was at the top of the climb. I knew now I could just coast the majority of the way down and let my avatar enjoy the decent. Making the top spurred me on a bit more and I managed to pedal my way to the finish. I actually got up the climb a lot quicker than I thought and I realised I could maybe beat 60 minutes on this ride.
I hammered out from the Volcano and headed for Downtown Watopia where the finish was. I sprinted at the end, knowing I had just missed the 60 minutes by a whisker.
I finished the ride in 60 minutes and 16 seconds – literally just missed berating 60 minutes! I averaged 137w, two down on Stage 2. Clearly riding on consecutive days isn't helping me keep my power up, but that is where some training this year will come in.
Stage 4 – Short Group Ride (Apr 1)
Stage 4 is all about the Jungle. The Jungle is a loop in Watopia on gravel tracks, through a Jungle (who would have guessed). I've never been on this route, despite unlocking it at the end of summer last year.
For this stage, Zwift auto selected the mountain bike for all participants. There is the choice of a gravel bike, but tests by zwiftinsider.com show that the mountain bike is a little quicker.
We set off from the starting pen and again I wasn't riding with anyone I knew (I know a small number of people who Zwift, but not many). The lead-in to the Jungle Circuit is fairly easy, mainly downhill so you can get the legs spinning nicely. Once you hit the circuit, the start line for the laps is over the other side, so you have to keep going. I started the 1st lap of 3 about 10 minutes in. After starting the lap you are on a pretty long uphill climb. It's not a great gradient, averaging about 3% I think, but the effect of the gravel makes your avatar naturally slower than the same climb on tarmac with a road bike.
After 36 minutes of trying I had got to the top but I was beat. I had zero energy and there was no way I was completing another 2 laps after this one. I turned down the half way up the climb thinking this would help, but I was still toast. I regretfully gave up.
I averaged 153w in the 32 minutes and 36 seconds. Up on the last couple of stages, but no good when you have no energy. I can only think I didn't eat as much on this day, which didn't help with the higher power requirements of the ride.
Stage 4 – Cat D Race (Apr 2)
An old friend of mine left me a message on Strava to have another go at this stage. It was the only stage I needed to complete the tour and April 2nd was the last day I could do it. I also mentioned in the Zwift Riders group on Facebook that I had failed to complete this stage. Someone said to do that race instead of the group ride, it's 2 laps instead of 3, just don't race like most other people will. So I signed up for the Category D Race.
In the afternoon, Helmut who rode Stage 5 and Stage 2 with me asked if I was "Zwifting" that evening. As I had just booked my place on the Cat D Race for Stage 4, Helmut signed up for the same event. We also setup Discord to chat properly instead of typing messages, this would be easier during the ride.
Not long after the start we met up in game and completed the stage together. The climbs again were hard, but with someone to ride with and talk to, it made it feel a lot easier (not that it was easy at all).
The rope bridge is a pin in the bum on that route, yes you go down a steep decline on entry, but guess what – the same only incline is on the other side and having the trainer back at 100% made my legs hurt on that bit, twice!
In the end I finished the stage in 61 minutes and 33 seconds with an average power output of 144w.
The Tour Overall
As I said up at the top of this post, it's the first tour I've completed. It's not the first I've entered, I've entered a couple previously, just not finished them. But this one I finished. It's also nice that friends can be made, even while in lockdown due to the current pandemic.
Some stats through the 6 days (should have been 5) of the tour;
Miles Completed: 86.8
Total Time Taken: 5 hours 42 minutes